When I was deciding to come back to the blog I was looking through all the blogging memes that the blogs I read follow. I had done Book Beginnings and The Friday 56 a handful of times, but over at
Mixed Book Bag
, JC merged them together and I really like that idea. So borrowing from her I'm going to start linking up to both Book Beginnings on Friday from
Rose City Reader
and The Friday 56 with
Freda's Voice
.
_____________________________________________________
I went to a neighboring town this past weekend and ended up going into the library. I have a library card there too and decided to see if anything caught my eye. I ended up pulling three books off the shelves, small books that can easily be read in one sitting. It was a rainy day and I thought about sitting in a coffee shop or curled up at home and enjoying a quick story with a hot drink.
Here are the three books I picked up:
Address Unknown by Katherine Kressmann Taylor
(about 50 pages)
Schulse-Eisenstein Galleries
San Francisco, California, U.S.A.
November 12, 1992
Herrn Martin Schulse
Schloss Rantzenburg
Munich, Germany
My Dear Martin:
The Tale of the Unknown Island by Jose Saramago
(51 pages)
A man went to knock at the king's door and said, Give me a boat. The king's house had many other doors, but this was the door for petitions.
Evenings at Five by Gail Godwin
(114 pages)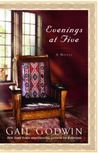 Five o'clock sharp. "Ponctualite est la politesse des rois": Rudy quoting his late father, a factory owner (textiles) in Vienna before the Nazis came.
"I think of Rudy a lot," Christina said. "It sounds awful, but I pay more consistent attention to him now than I did when I had him right in front of me. ..."