Linking up to both Book Beginnings on Friday from
Rose City Reader
and The Friday 56 with
Freda's Voice
.
This week the book
Black Hills
by Nora Roberts
caught my eye.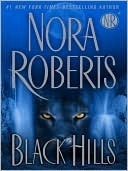 1
South Dakota
June 1989
Cooper Sullivan's Life, as he'd know it, was over. Judge and jury -- in the form of his parents -- had not been swayed by please, reason, temper, threats, but instead had sentenced him and shipped him off, away from everything he knew and cared about to a world without video parlors or Big Macs.
Lil's first look at the cat took her breath away. Sleek, muscular, her eyes tawny glints, Cleo sat in her travel cage like royalty on a throne.

She eyed the humans, with what struck Lil as a gaze of pure superiority, and let out her coughing roar in case they didn't fully understand who was boss.
This is a reread for me. I originally read it sometime before 2011, possibly when it was first released. I just got myself a Kindle Paperwhite and wanted to try it out so I checked this out from the library.
I remember thinking how great wild life rescues were and soon discovered
Single Vision Inc.
an animal sanctuary in Florida.