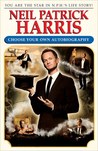 Neil Patrick Harris: Choose Your Own Autobiography
by
Neil Patrick Harris
My rating:
5 of 5 stars
This may have been the most fun I've ever had reading an autobiography or memoir. I loved the choose your own adventure books as a kid and I've loved NPH since I saw him on Doogie Hoswer.
My original plan was to read this book through a few times choosing different paths and then I was going to read it through like a normal book (many reviews say this is possible). I read through a few times and had some good laughs and then I was ready to do the regular reading.
This proved to be a problem.
I didn't make it far into the book before I got to the end of a section and instead of just turning the page, I wanted to skip head to see where each option would have taken me. This lead me to want to keep jumping around as you do and I ended up choosing three more adventures.
The book is too munch fun to read in any other way!
The book covers Neil's childhood and his introduction to both acting and magic. These two passions great influence Neil's life and you can have a lot of fun bouncing around these themes. Some of the other story lines follows his relationship with David and becoming parents. They were so secretive (and with good reason) about the birth of the twins it was nice to hear about how it all came to happen. I really enjoyed hearing about the twins and how much they are like their fathers.
Some of my favorite passages were:
The section edited by David.
The section about the Harold and Kumar movies.
The fake endings were all hilarious
The notes from his famous friends.
I received this book from the Blogging for Books program in exchange for this review.