With April being National Poetry Month, I thought it would be a good time to get this requirement crossed off the list. I would have gone back to some of my favorite collections or poets that I already knew so I reached out to the Twitter hive mind for some suggestions. I got what I could from the library and picked up one other.
Small Poems
by
Valerie Worth
My rating:
4 of 5 stars
I thought these poems were really cute and I think a great way to start kids off with poetry. These are simple poems about everyday objects, animals, and I think some foods stuffs.
Pug: And Other Animal Poems
by
Valerie Worth
My rating:
4 of 5 stars
When I was looking in the library catalog for I saw this book. Being a pug mom I had to check it out. Again some great poems for children. Personally I think the pug poem was the best!
Poisoned Apples: Poems for You, My Pretty
by
Christine Heppermann
My rating:
4 of 5 stars
I was intrigued by this collection of retold fairy tales. Some of them were a little odd, but I think it would really speak to teens today. I really liked the poem titled
To My Sheep, Wherever You Are.
I chose it as the poem for
Poem In Your Pocket Day
.
Motherland Fatherland Homelandsexuals
by
Patricia Lockwood
My rating:
2 of 5 stars
Nope. I didn't understand most of what was written in this collection. The few things that either made sense or just sounded pretty are what saved this collection from either bring a DNF or a 1 star book.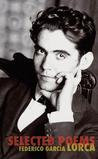 Selected Poems
by
Federico García Lorca
My rating:
3 of 5 stars
I liked a good number of the poems, but I think something was lost in the translation.
Apparently I liked the children's poems better than the more adult collections. Does that say something about poetry or about me?