I finished the series Fairy Tales by Eloisa James. I'm also using these books to complete the "A book that is a retelling of a classic story" requirement for the Read Harder Challenge.
The Duke Is Mine
by
Eloisa James
My rating:
4 of 5 stars
The Duke is Mine
is a retelling of The Princess and the Pea. It has the heroine showing up in the middle of the rain storm, not looking at all like the lady she is supposed to be, and there is scene where she sleeps on a pile of mattresses and feels something uncomfortable but it's not a pea. I really enjoyed this retelling and thought that the hero and heroine were a really good match. I liked them both and how they were upstanding enough to want to please their families but realistic enough to know that it wasn't at all possible to deny their feelings for one another.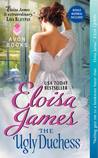 The Ugly Duchess
by
Eloisa James
My rating:
3 of 5 stars
The Ugly Duchess
is a retelling of The Ugly Duckling. Like the original the heroine is though to be ugly and not pretty enough to be duchess to the duke. They completely bungle their marriage and spend a number of years apart. She goes off to France to become a beautiful swan and he becomes a pirate. I would have liked this story more if a lot of the middle had been cut out of the story. Some of the animosity between the two main characters felt forced in order to fit to the retelling.
Once Upon a Tower
by
Eloisa James
My rating:
4 of 5 stars
Once Upon a Tower
is a retelling of Rapunzel. I like how there are a number of references to the original fairytale throughout the story (this is done in other books in the series, but I liked these the best). The heroine quickly marries a Scottish lord and is thrust into his life. Up until his marriage the Duke thought he had his life running like a well-oiled machine. It's not until these two are forced to realize that they both can't have it their way, that love prevails. It just takes a jealous husband and a wife who has locked herself away in a tower to play her cello in peace.