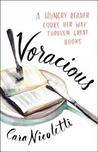 Voracious: A Hungry Reader Cooks Her Way through Great Books
by
Cara Nicoletti
My rating:
4 of 5 stars
Cara Nicoletti loves food, you could say it's in her blood. She comes from a family of butchers and is herself a butcher and a baker. As much as she loves food, Cara also loves books. She's been an avid reader since childhood. As she reads, she finds that in books as in life a lot of things happen around food. This book takes a look back at some of her favorite books and the food found between the pages. Each book is paired with Cara's version of food based on or inspired by the book.
The books/recipes are broken up into three sections: Childhood, Adolescence and College Years, Adulthood. Since it is currently August and I participate in Austen in August (run by Roof Beam Reader) I'm going to focus on the two Jane Austen novels that appear in this book.
Pride & Prejudice White Garlic Soup
As any reader of the novel knows and as Nicoletti points out, there is a lot of talk of food, but no mention about what the food actually was that everyone was eating and enjoying. We get one mention of a type of food when Mr. Bingley mentions white soup. Do a search and you will see some things that don't sound so appetizing. Nicoletti has tried many of them and decided she needed to come up with her own version. It's an intense recipe that starts the night before and involves soaking, blending and straining.
Emma Perfect Soft-Boiled Egg
Nicoletti didn't warm up to
Emma
because of the connection to Clueless. I only picked up
Emma
because of the movie (it started my love of Austen). Being a butcher Nicoletti found a kinship with the way Emma knows her way around the butchery of an animal. To run the household, a woman of the time would need to know the different cuts of meat from the animals in order to properly tell staff where each cut should be sent or used. While butchery may have been Nicoletti's draw to the novel is was Mr. Woodhouse's attempts to get people to eat like him that inspired this book's recipe. Besides gruel, he attempts to persuade Mrs. Bates to join him in eating a soft boiled egg. It seems like a simple recipe, but we're told it's not an easy task.
This book is filled with great stories about how each book came into her life and how the food connects to another aspect of her life. I enjoyed the book because books and food play important roles in my life too and besides my obsession with cookbooks I very rarely connect the food in books to other aspects of my life. The one yearly time I do is when I celebrate the Central NJ Region of JASNA's annual Box Hill Picnic. Based on the event in
Emma
all the officers bring a strawberry themed treat for everyone. This book has opened my eyes to so many more possibilities and it has also added to my ever growing To Be Read List.
I received an ebook copy for an honest review from Edelweiss.